Tame the Trails in 2023, and Commute There Too
The Hoka Challenger ATR 7 is ready to commute for you in 2023. Maybe you live 2-3 miles from your favorite local trails? If so, the Challenger ATR 7 will get you across that tarmac and concrete comfortably to land at your favorite dirt tracks. We're also looking at an increase of 2mm in that midsole stack height, a nice bonus for the trail runners who enjoy some extra forgiveness under step.
The upper receives an upgrade in this seventh iteration! Reimagined with a simpler and softer engineered mesh, Hoka really went for it in the back of the upper. As most know by now, I'm a heart throb for a elf heel, or heel flare; think Hoka Speedgoat 5 type of flare! Hoka nailed this heel counter and tab for a commuter trail running shoe option. And dare I say, the heel counter is stout! Meaning, it's built like a tank and will lock your heel into the pocket of the shoe so well. No slipping happening as you ascend the steeper sections of your favorite local trail route. A full gusset will welcome the top of your feet into the shoe, and a pretty standard lock down experience through the toebox, vamp, and eyelet chain. Tongue cushion is spot on, reacts well with the laces, and as always I opted for the runner's knot in the lacing process. Overall breathability will treat your toes well in the warmer trail running months of 2023, and beyond.  
The tried and true CMEVA is back on the menu for the Hoka Challenger ATR 7. As already mentioned, Hoka (like many other running shoe companies) is bumping up the amount of foam they blast into those molds in the production process over in Vietnam. 2mm extra foam understep, and it's noticeable when compared to the ATR 6. However, the energy return is not epic, even though they are bumping up the stack height to 31mm in the heel and 26mm in the forefoot for a 5mm drop or slope inside the shoe. It's a nice drop, and stack, but does not equal incredible comfort understep for the LONG trail runs. If I had to choose a distance and type of trail to use this shoe on, it would be the tamer trails with 10-20 miles in the training plan. I can think of other shoes I'd prefer for zipping past the 20 mile threshold, like the Brooks Caldera 6 or Saucony Endorphin Edge. Lastly, a little bit of wear and tear is popping up after the testing on the exposed CMEVA foam.
This trail running shoe is not a big mountain running shoe, but that durabrasion rubber will do the trick for some standard commuter miles. Think undulating hills (buffed out trails) versus the Rocky Mountains for your training in this shoe. With a 4mm lug depth you'll feel confident on the trails while not creating discomfort in the commute to get there. The outsole (see below) is exposed CMEVA, which I love, but may drop your overall durability for the shoe. Don't be surprised if the exposed EVA foam gets chewed up pretty quickly, especially if you venture out on to the rockier and root-ridden terrain.
Would I Buy This Shoe Again?
This trail running shoe is falling into the classic daily trainer category for knocking out those standard tame trail miles. Nothing too flashy about that midsole ride, which means I wouldn't go out for 3+ hours and I wouldn't climb much more than about 1000 feet in them. I would buy the Hoka Challenger ATR 7 again if I was seeking out an incredibly comfortable upper, especially in the achilles tendon area. The question becomes, what will the Speedgoat 6 look like in 2023…
Drop

:

4mm

Stack

:

31(mens)mm / 26(mensmm

Weight

: 8.1 oz / 231 g




Mens (Size 9) – 8.9oz / 252g




Womens (Size 8) – 7.3oz / 207g

Upper

:

Engineered Mesh. Redesigned for a more plush feel. Recycled Materials 

Midsole

:

CMEVA

Durometer Shore C

: 38-42

Outsole

:

Durabrasion rubber
Commissions earned through the Running Warehouse Affiliate links help support this channel's content creation.
Other Shoes To Buy:
HOKA Speedgoat 5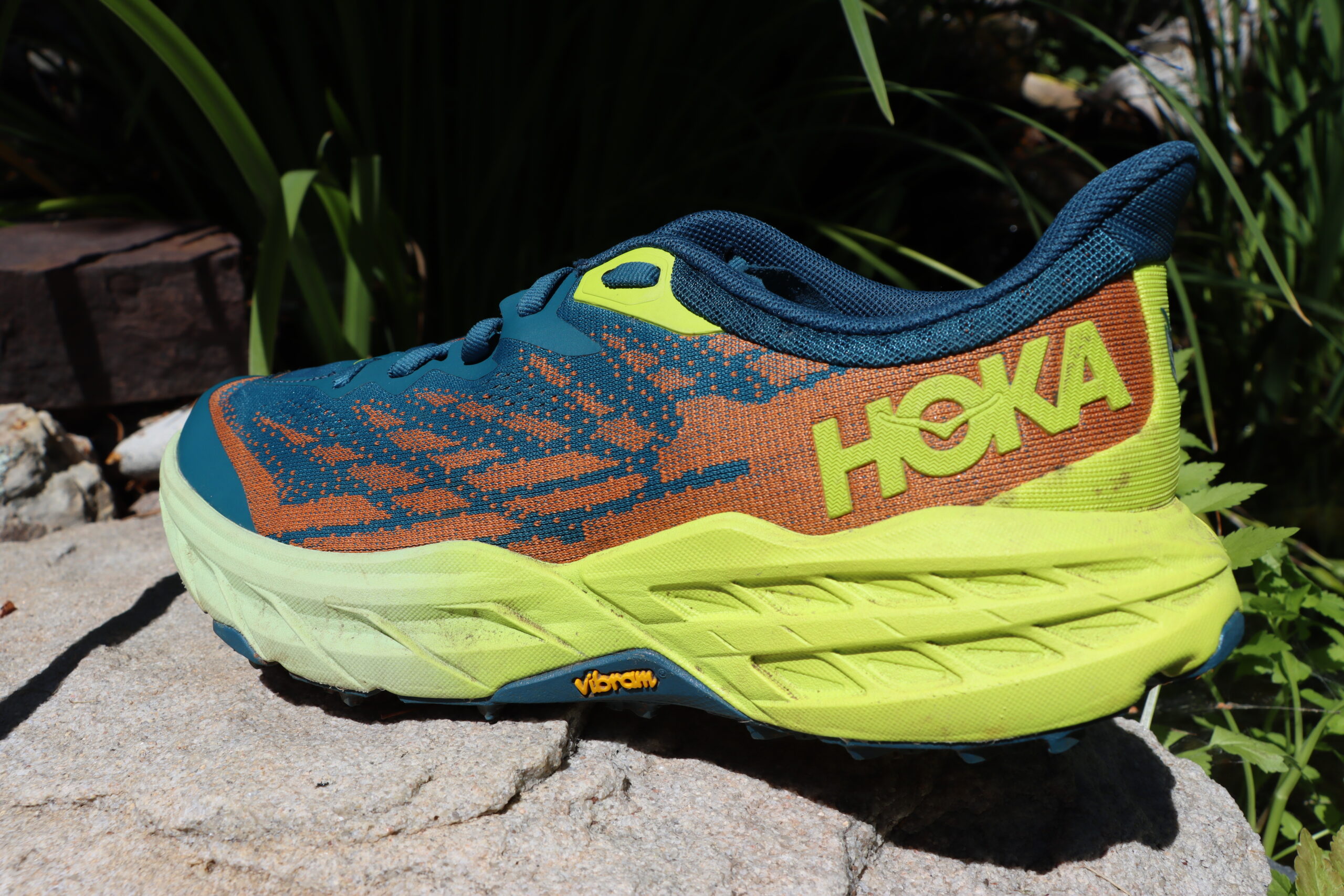 Commissions earned through the Running Warehouse Affiliate links help support this channel's content creation.